Syria conflict: Donor nations pledge $10bn in vital aid
Donor nations meeting in London have pledged more than $10bn to help Syrians affected by the five-year conflict, UK Prime Minister David Cameron announced.
He said the money (£6.8bn) would provide millions in Syria with "life-saving" food, medical care and shelter.
More jobs and schooling would be provided for refugees in neighbouring countries, he said.
Turkish Prime Minister Ahmet Davutoglu said an estimated 70,000 Syrians were heading towards its borders amid a Syrian government offensive, backed by Russian air strikes.
The offensive prompted the suspension of fledgling UN-brokered peace talks in Geneva.
While the conference has been a financial success, the prospects for ending the war in Syria look bleaker than ever, the BBC's diplomatic correspondent James Robbins says.
Mr Cameron said at the end of the day-long conference that $6bn had been pledged for 2016 alone, and a further $5bn over the coming years until 2020.
He said Turkey, Jordan and Lebanon - which are housing most of the 4.6 million refugees - had also pledged to ensure all refugee children will have access to education.
"The international union is backing them with the resources which will allow them to ensure there is no lost generation," he said, adding that one million children currently not in school would have access to education by the end of the next school year.
The neighbouring countries had also, he said, made a "courageous commitment" to open their economies to provide more jobs - helped by $40bn of loans and the opening of European markets that would create one million new jobs in the region.
UN Secretary General Ban Ki-moon hailed the gathering of 60 countries as a "great success".
"Never has the international community raised so much money on a single day for a single crisis," he said.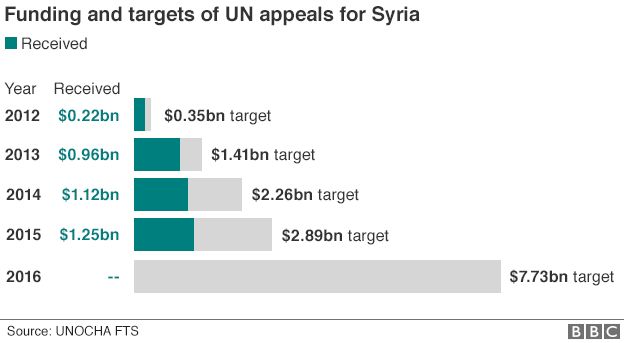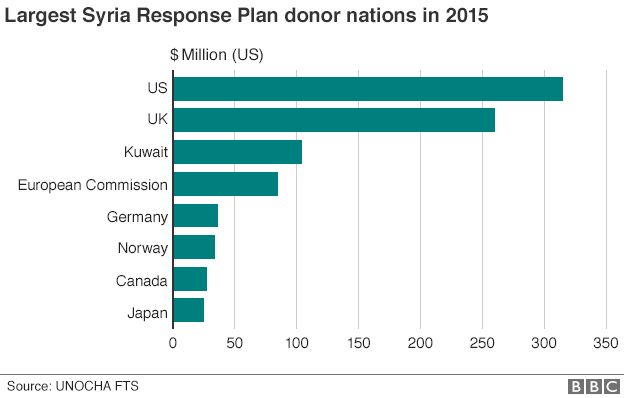 The European Union has pledged $3.3bn (€3bn; £2.3bn) this year and intends to "maintain this level of financing" for 2017 and beyond.
The UK pledged an extra $1.7bn until 2020, Germany committed to $2.6bn until 2018, France said it would give $1bn and the US pledged an extra $925m for 2016.
Australia, Belgium, Italy, Poland, Japan, the UAE, Austria, Switzerland, Estonia, Denmark and Finland, along with the World Bank and the European Investment Bank, were among those who also committed funds.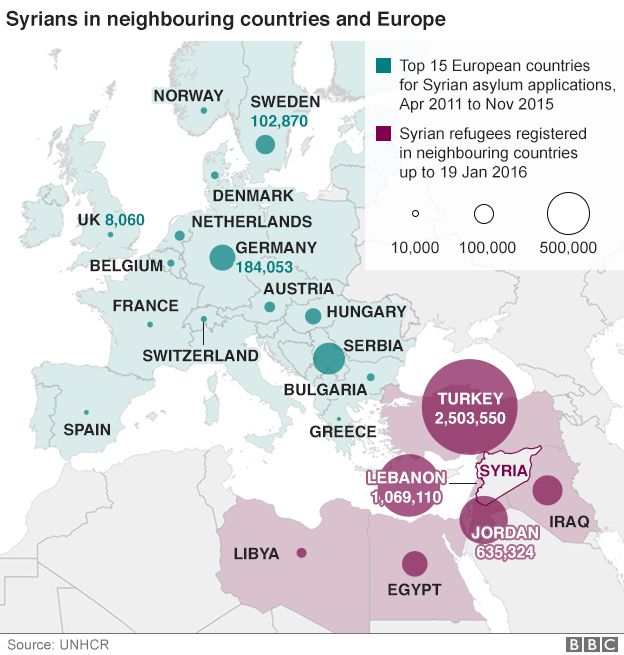 The talks, which opened just two days ago, are expected to resume on 25 February. UN special envoy Staffan de Mistura admitted there had been a lack of progress but said that the negotiations had not failed.
Ban Ki-moon, speaking in London, said that the Syrian people needed "not just food for today, but hope for tomorrow" and urged both sides to "get back to the table, not to secure more gains on the battlefield."
A number of countries criticised Russia for conducting air strikes to help the Syrian army advance.